07.07.2022
Innovation Update: Husqvarna EPOS™ Technology
The Robotic mower industry is evolving fast and it's one to keep an eye on. Frequent innovations are made within this field to improve the functioning of robotic mower systems. Before we go into what the latest technology is, let's take a look at the history of this field to gain a retrospective of the strides which have been made and how quickly this has all come about.
In 1969 the first robotic mower was introduced to the market, by 1992 the first fully solar-powered robotic mower was created, developed, and sold to Husqvarna who marketed it in 1995.
In 2019 Robotic mowers without perimeter wires were announced.
In 2020 Husqvarna announced their new robotic mower which utilized their EPOS™ system.
From the beginning, Husqvarna has been a pioneer in the robotic mower industry and continues to pave the way with new technology and developments to improve these machines. Their efforts have been well calculated and the robotic mower industry itself is growing with the technological advancements, this market was valued at 1.3 billion in 2020 and is predicted to reach 3.5 billion by 2026.
So, What is EPOS™ Technology?
EPOS™ stands for Exact Positioning Operating System and is comprised of satellite-based technology which allows the robotic mower to work within virtual boundaries in place of physical boundary wires which were previously the norm.
There are many benefits to the elimination of boundary wires including:
improved ease of installation and alterations
Improved flexibility
Ease of use for large areas that may require change/flexibility such as football pitches, golf courses, etc.
fewer issues when it comes to other maintenance such as aerating & scarifying as boundary wires will not be at risk of damage.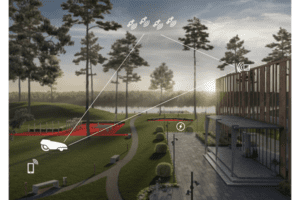 This video from Husqvarna demonstrates how much flexibility this technology gives to the users. It allows for simple, fast, and efficient alterations to stay out zones and working areas without the need for a full reinstallation and you can monitor all of this from their App.
As well as directing where the mower can and can't go via the App it also allows you to monitor important information such as where the mower is, how much you've used it and when it needs to be serviced.
What models are there?
CEORA™
After the introduction of this technology, Husqvarna has recently released CEORA™. This model of Robotic Mower is focused on commercial Turf care such as football fields and other larger facility areas. This mower uses the EPOS™ technology and even takes it a step further.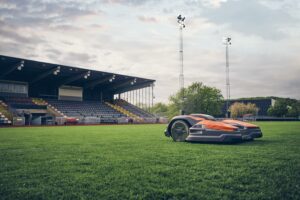 With the use of EPOS™ guidance, CEORA™ will calculate the most efficient route to and from the charging station and will also vary its route to avoid unpleasant tracks.
As well as this it will be able to connect to Husqvarna Fleet Services™ which allows the user to control multiple machines from their smartphone. This App was designed to give the user control of their fleet without having to physically be there. From this app, you can check up on your mowers, send them commands or adjust their settings. For additional security, you can receive alarms and track the mower's position.
There are also smaller EPOS™ robotic mowers that can be utilized for professional use or estates and larger gardens. The AM550 EPOS™ has a working area capacity of 5,200m2 and is capable of handling slopes up to 45%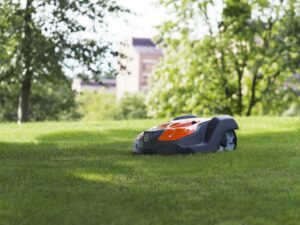 Why choose Robotic Mowers?
There are numerous reasons why you should choose robotic mowers in place of conventional mowers, their benefits extend beyond just ease for the user. The most obvious benefit is that any physical responsibilities of lawnmowing are completely eradicated. Other benefits include:
Environmental Benefits – Robotic mowers are all-electric and therefore produce no direct emissions. This is an excellent solution for commercial areas looking to improve their sustainability.
Eliminates noise pollution- Due to different features within the mowers, including an innovative Husqvarna motor that allows for 24/7 mowing even in noise-restricted areas, this feature is particularly useful for commercial or public sites considering automating their ground care.
Improved lawn health- This is the reason why those who have a robotic mower are impressed with the change in the visual appearance of their lawn. The way the robotic mower cuts grass, small bits at a time is overall less damaging for the grass and also promotes healthier growth, due to the random cutting pattern and low weight there are no visible tracks and finally, all robotic mowers cut small sections and the cuttings are returned to the lawn, small enough not to cause a mess but enough for the cuttings to fertilize the lawn which improves both health and visual appearance.
Longer service life & reduced maintenance- this frees up more time as well as saves you money in the long term.
To find out more about our Robotic Mower range browse our site now
If these benefits still haven't convinced you to turn to automation or if you're unsure which robotic mowers are best suited to you and your needs, get in contact with our robotic mower expert who can discuss your needs with you and provide you with recommendations. 01307 468 556 or send us an email at [email protected]