28.04.2022
The Life of a Robotic Mower: Features that make your life easier
Robotic Mowers are the latest pieces of technology making maintaining our gardens easier and with different brands putting their twist on this technology, there is an abundance of features that are included in these small but mighty machines with more still being developed as this technology progresses. But what do these features mean for the user?  These machines are quite complex and so when looking at them and their specifications it can sometimes be difficult to drill down to the actual user benefits. This guide is a rundown of some of the user-centric features and new features you may not have heard from across three popular brands of robotic mowers which may tempt you to switch and leave traditional mowing behind forever.
Overlapping
---
Although all of these brands boast different features and have their unique points, they also have overlapping features which are the standard features for robotic mowers which make our lives easier and benefit us as well as our grass. The way a robotic mower is designed, it cuts small amounts of grass, more frequently and more gently than if you were using a traditional mower, meaning that your lawn is less damaged, and you will overall have healthier grass. If you're thinking, it can't make that much of a difference, check out this article with impressive side-by-side picture comparisons of the quality of the grass of traditional mowers in comparison to robotic mowers.
As well as being better for your lawn, it's also better for you. Although mowing the lawn is a fun task to some, to most, it's a chore. One which you usually feel the need to do when the weather is nice, and you should be out relaxing instead. Having a friendly robot mow your lawn for you instead sounds like a much better option whichever way you spin it.
---
Husqvarna Automowers is a popular choice for many when it comes to Automowers, they are continuously adapting and developing their technology to be more user-friendly and powerful, their line of Automowers boasts some impressive features and they have developed those features into their new project of even more powerful, professional Automowers. Some of these features include:
Sensors that can navigate narrow passages and gaps. Unlike your Roomba you won't be alerted constantly about your robot getting stuck between the stairs and an ornament, these sensors combined with GPS assisted navigation means you can rely on your mower to get to all of the small, complex or tricky areas and most importantly, make their way out again.
AIM technology, this is Automower Intelligent mapping, this feature allows you to customize how the mower works in your garden, so perhaps you don't want to watch your feet when you're having a garden party? You can send the Automower away or simply limit it to a certain part of your garden, want a section of your garden to grow wild? Create a stay out zone. This technology is designed to give you full control of how the mower navigates your garden with ease.
Unlike us, the mower doesn't care what the weather is. These models are designed to be used in rain or shine and even have a frost guard which allows the mower to interrupt the mowing schedule in frosty conditions, so it won't matter if you forget to check the weather forecast that night.
App & Alexa or Google compatibility. Designed to be used easily and without hassle the more advanced models have both App and Alexa or Google home compatibility, meaning sending your mower out or in can be as simple as telling it to. Or if you just want to track what your mower is up to while you're not there, you can check in on it on the app with real-time updates.
Personalisation features. Husqvarna has recognised that with anything small and robotic we like to personify them. Some additional touches which improve our experience with these machines are the ability to name them whatever you want, the app will then refer to your Automower by name, as well as this Husqvarna also sell skins for them. Want your Automower to have flowers on it? Look like a zebra or ladybug? Now you can.
Browse our range of Husqvarna Automowers Now! 
---
Stihl iMOW is also a largely popular robotic mower that is designed to be fully automatic and a simple way of dealing with your lawn. With Stihls classic orange you don't have to worry about tripping over it or losing it in a large garden. Some user-centric and new features with the Stihl iMOW include:
App control, like other brands you can control your robotic mower via the iMOW app which allows you to alter mowing settings and allows you to see how good of a job your iMOW is doing in real-time. This doesn't mean you have to control your mower, left to its own devices the mower will return to its charging stand all by itself, recharge and then set off itself again.
Don't check the weather forecast? No problem, the mower will do this for you, it will check the weather forecast and only mow in suitable conditions, so you won't have to worry even if you aren't there!
Stihl is consistently developing additional features and advancing their current technology with updates, this includes the iMOW app they have just introduced a new app update that allows you to set your mower to mow art into your grass. This feature is unique and allows you to upload your pictures and designs as well as chose from pre-made designs including mazes to turn your garden into a giant playground for your kids or the motivational pre-set pack which gives you a different motivational quote on your lawn every three days which they have tested and found that it improved morale by up to 20%!
Browse our Stihl iMOW range now!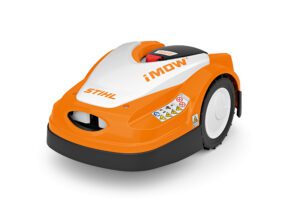 ---
Honda's robotic mower the Miimo is designed to be intelligent, independent and deliver good performance. Honda provides robotic mowers for those with smaller lawns as well as larger ones and has a small Miimo range designed to be small, convenient and versatile to suit your lawn. Some of Miimo's features include:
Map & Mow. Similar to other brands systems this system is designed for you to be able to input your gardens details and your preferences allowing the mower to know where to go and create a mowing calendar to fit around you, from this Miimo will go out itself and return to its base to recharge independently before going back out again.
Miimo has a place and mow feature, this allows you to manually place the mower in precise areas to get it to cut allowing you to ensure no section is missed.
Compatibility with Amazon Alexa & App. As explained previously this allows you to verbally instruct your lawnmower and it can also give you status reports and inform you of the mowing schedule. Then if you need to alter it simply pull up the Mii-monitor 40 App and control Miimo's schedule.
Browse our Honda Miimo range now!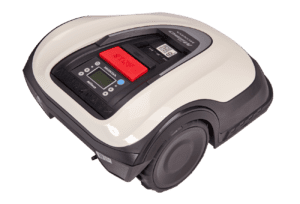 Automowers are a gamechanger and are a huge step in making a tidy, healthy garden easier for everyone, these can particularly be useful for those who just don't have the time to continually mow or those who may not be physically able to. As well as this, these little battery-powered mowers are more environmentally friendly than mowers powered by fuel as they produce no emissions.
They are extremely neighbor friendly, they stay within their boundary wire meaning you won't have any rouge mowers to worry about and they are quiet. Meaning they can run in the background at all times of day without disturbing anyone, some even come with headlights allowing them to work efficiently in the dark while also alerting you of their presence and ensuring no one trips on them.
All these features, all designed to make your life easier. The biggest effort is deciding which one to get.
Need help? Give your local dealer a call on 01307 468 556 and our experts can provide you with recommendations based on your garden type requirements and preferences.