30.06.2022
Why Do You Need A Pressure Washer?
As we are getting into Summer we are spending more time outside and in our gardens. More of us might be realizing that we have been lacking a bit over winter and the appearance of our garden is looking less than appealing. Part of the tidying process is ensuring everything is clear and clean, this is where pressure washers can make a painfully long job into a quick hose down.
The great thing about pressure washers is their versatility, they can be used on pretty much any surface, due to the ability to adjust the pressure you can ensure that whatever type of surface you are using it on doesn't get damaged. Ideal for when you have a large area to clean or particularly difficult to clean surface.
Pressure washer/power washer?
What is the difference between a pressure washer and a power washer? Although their names may appear interchangeable, they do have different meanings. A pressure washer uses water which is at ground temperature, blasting at a high pressure to clean. The power washer works similarly just with an additional element, heating. Before spraying it out a power washer heats the water making it easier to get rid of tougher stains and bacteria.
So, what applications can they be used for?
If they have so many applications then what are they? basically any surface you can think of, but to name a few…
Outside house maintenance
This can include a variety of surfaces including the outside walls or bricks of your house, with time they can get green, and a good wash can make them look like you had a painter in.
In the same sense cleaning decks, patios and porches can keep your wood looking nice and turn an old-looking deck into something to be proud of, this also works for stone patios and paths.
Outdoor furniture
If you have left your furniture out all winter, or just didn't have a place to store it then they may be looking a little worse for wear, caked in mud, and turning green. Instead of spending ages hand washing them with the risk of exposing the spiders that crawled up in there, you can use a pressure washer to get a quick and easy clean, leave them out in the sun to dry and you're good to go. This works for all kinds of furniture, plastic, wooden, metal and even other outdoor objects which have been overtaken by the elements such as basketball hoops and football goals.
Lawn equipment
If you have an interest in garden maintenance, you may use a variety of equipment including lawnmowers, ride-on mowers, tillers, etc. Then a pressure washer is an ideal way to keep them clean and in good, working condition.
Cars
It's an obvious one but if you're someone that likes to keep your car in good condition then a pressure washer can be worthwhile. It's a lot more convenient than taking your car to a car wash, particularly if you don't live close to one. In the long run, this will save you money and if you're particular about their car then doing it yourself may be preferable.
Maybe this has convinced you that a pressure or power washer is the ideal home maintenance tool for you? Now you need to pick one. Which one you pick can be dependent upon numerous factors such as intended uses, frequency of use, and budget.
If you're unsure of which one is right for you, why not speak to one of our experts? Our salesmen can guide you based on your requirements to make sure you get the right tool, for the right job. Get in contact now at 01307 468 556 or send us an email at [email protected]
Brands
Here are some of our favorite brands of pressure/power washers and recommendations for domestic use, as well as what offers are currently available
Stihl have a wide range of pressure washers to suit your requirements, they also currently have a great offer on, with the purchase of select models you will receive a free RA 90 surface cleaner worth £44 which is ideal for even more efficient and splash free cleaning.
Within this range is the RE110 plus, a sturdy, electric pressure washer ideal for home and garden maintenance. With a compact design and an extendable telescopic handle and folding side storage compartment as well as a hose reel, everything you need in a pressure washer and more.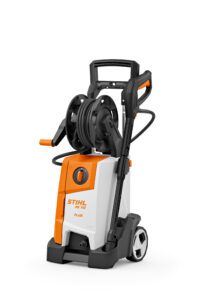 Browse our range of Stihl Pressure washers now
A compact and lightweight pressure washer which is simple to use has a maximum pressure of 125 bar, a power of 1500 W and a water flow of 320-460 l/h ideal for homeowners who want to keep their garden furniture, pathways, and vehicles in check.