14.07.2022
Summer Essentials: What equipment can give your garden the upper hand this summer?
Whatever your garden goals are this Summer, there are a few essential pieces of equipment that any garden enthusiast should have at their disposal. Depending on where you live and the weather conditions different equipment may be more useful than others and all will take a bit of intuition to gain the best results.
If you live in Scotland, then you know that even in the summer the weather can be unpredictable and there are various changes from sunshine to high winds and heavy rain to deal with. This will alter how you approach your garden care in comparison to those who experience long, dry summers.
Mowing.
One of the most universal pieces of garden equipment most people have is a mower of some sort. Whether you are a hardcore gardening enthusiast or whether you have just been tasked with making sure your garden doesn't turn into a jungle, most people with a garden owns a mower.
Something to note is that in the summer, grass grows faster. A natural reaction to this may be just to cut your grass shorter on the next mow but this can increase the risk of damage to the lawn and the occurrence of weeds. To some people's dismay, the answer to keeping your lush, green grass healthy during the summer is to mow more frequently.
In the market for a new mower? Browse our range now
If this news makes your heart sink at the thought of more time spent mowing your lawn then you should consider investing in a Robotic Mower to free yourself of this task altogether. Read our blog on how Robotic mowers can make your life easier and Browse our range now!
As well as this, according to STIGA's blog, you must wait until your grass is dry before you cut it, something those who live in areas with unpredictable weather should keep in their minds when performing garden maintenance even during the summer. There are a few reasons to avoid this, including
Depending on your mower, cutting wet grass can cause strain and damage to some mowers as well as clogging your mower deck.
The cut won't be even, due to blades of grass bending when wet it can cause an uneven cut so after you struggle to cut it you aren't even left with good results.
Can cause damage to roots and cause ruts to form which impacts future lawn health, this is due to the weight of the mower, wheels, and even your shoes which can cause the soft soil to become compact.
Summer Pruning
If you're someone who likes to take care of their garden then summer is the ideal time to go out and grow a new plants, maintain existing plants and create your ideal garden to spend evenings in and host events.
Summer is the ideal time for pruning, this is because the vegetative development is at its highest and allows for the plant to heal and regrow before the winter. As well as limiting growth so one plant doesn't take up your whole garden, this process also refers to the removal of dead branches and generally tidying up your shrubbery or trees.
If you're someone with a relatively small garden this can be a time-consuming and physically laborious task because you may not deem it worthwhile to invest in a hedge saw or pole pruner for a smaller area. However, a tool that is particularly useful for those with smaller gardens or a lot of smaller shrubs and trees to pruner is a cordless, handheld pruner.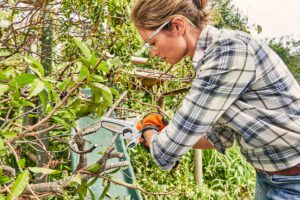 If you have a larger garden with a lot of bushes, shrubs, and hedges then a hedge trimmer may be a worthwhile investment. Not only are these machines relatively small and take up little space in your storge but they are useful all year round. They also give you the ability to try your hand at wonderful hedge art and shapes which you see all over your social media.
Browse our range of hedge trimmers and pole pruners, including brands such as Stihl, Honda, and Husqvarna, Hedging skills are not included!
Cleaning
Because summer is the time of year when you spend the most time in your garden so most people start the summer by taking out all of their garden furniture and giving it a good wash. Why stop there? A pressure washer is both a car enthusiast's ideal tool as well as a garden enthusiast. A quick and simple way to keep your garden tidy and clean. With numerous applications, a pressure washer can
Clean walls, windows, and fences
Clean slate, stone, and wooden patios and driveways.
Be used on cleaning cars, tractors, lawnmowers, and other equipment.
Browse our range of power/pressure washers now including the Stihl Range, with Stihl's Pressure washer promotion currently on.
Enjoy your Garden!
After all that hard work, time and effort take the time to enjoy it. Show your garden off by hosting some events or get together and make the most of the nice weather and long nights while they last!