21.04.2022
Cordless Mowers: Will You Make The Switch?
With increased environmental concern being demonstrated around the world and being pushed to the forefront of a lot of digital media now is the ideal time to consider how we can minimise our impact on the plant. This increased concern is the result of the current environmental crisis we are facing, which is already impacting us, the full consequences of which are going to be harshly felt by the upcoming generations. So, when looking for cleaner alternatives a lot of the answers are in the machinery we use. If there is a zero-emission alternative that boasts the same power and provides the same results, then wouldn't you jump at the opportunity?
Cordless, Battery-powered mowers are not new on the market, but their technology has vastly improved since perhaps the first time you have seen them. A lot of the models boast the same or similar power and give you the same results as traditional, petrol mowers, just without the added pollution as well as more benefits to the user which makes them a worthwhile consideration when looking to replace or purchase a new mower. Of course, these batteries are not a completely clean solution, they won't last forever and will be thrown out at some point and that brings into question the disposal process as well as the creation process neither of which are particularly good for the environment, however in comparison to fueled mowers and the emissions they produce during their lifecycle then this is a vast improvement.
First off what are the benefits of a cordless mower?
---
There are a variety of benefits of operating a cordless mower in comparison to a traditional, petrol mower. Some of these include:
Zero Emissions – This is the most obvious and one of the most impactful, with lawnmowers producing anywhere from 16 billion to 41 billion pounds of CO2 every year it's clear to see why many environmentalists are advocating for more people to switch to a cleaner solution. So while you may not think that your lawnmower is making a difference, the collation of everyone having this mindset is what is contributing to the production of these harmful emissions.
Lower Noise Production – if you're one of those neighbors that decides that the first thing, they want to do on a Sunday morning is to mow the lawn, then to avoid the influx of neighbors' complaints you will then receive, try using a cordless mower. The battery used to power the mowers makes far less noise than petrol engines and benefits more than your neighbors. Those who work in this industry or frequently use high-powered, petrol machinery can suffer hearing damage from how loud the machinery is. These cordless alternatives are far quieter, and your hearing will benefit from this.
Simple to use and keep – there are surprisingly multiple benefits to having a mower without an engine, of these is the reduction in weight makes these machines simpler to maneuver so transport is simpler as well as the act of mowing itself. As well as these battery-operated mowers are ideal for those who struggle with the strength required to start a petrol mower, typically a petrol mower comes with the need for a few tough pulls of a cord to start, cordless mowers erase the need for that function altogether and instead allow you to start your machine at the simple push of a button. There is also less frequent maintenance required. Often Petrol engines are a large cause of issues that occur within mowers, take this step out and you have a machine that typically has fewer issues and therefore doesn't need as much servicing to prevent said issues, saving you money in the long run as well as time.
Considerations
---
You would ideally put the same time, consideration and research into your purchase of a cordless mower as you would when looking at a traditional petrol mower, and typically you would look at the same aspects with some alternatives, for example where you would typically look at fuel capacity which will indicate how long you can mow for before re-fueling, instead, you would look the battery run times and get a mower proportionate to how long it would usually take you to mow your lawn. If you have a particularly large lawn and the highest power battery for you still won't cut it then usually people invest in a second battery, to have one in the mower and one charging, simply swap and you can mow continuously.
Other considerations are generally the same as a traditional mower and include aspects of the performance of the machine, such as cutting height adjustment settings, deck size, power, mulching, or collection options which you would simply choose based on the tasks your mower will need to handle and preferences. From then you would have to consider the battery…
The Cost
---
For some, the initial cost of a cordless mower is holding them back from making the switch. This is understandable, although the cost has come down from when they were initially released depending on the model you are looking at, they can often be a larger investment than a traditional petrol mower. This is primarily down to the cost of the Battery and chargers. Some Brands offer these in Kits which provide you with everything you need in one. However sometimes the battery and chargers are sold separately, and this adds to the cost of an already pricey mower. However, the idea behind this is that most of the time, these batteries and chargers are part of a brand' cordless range' and therefore will be compatible with other machines in this range, this is designed to save you money for future purchases.  Therefore, the price may vary, you may already have a battery and charger which is compatible and so the price point will be lower because you have already made the initial investment of the switch.
However, for some people the initial investment is worth it for the fact that you are saving money long term, this is because of course recharging is cheaper than refueling, particularly with the price of fuel currently climbing and the more tools you use and the more you convert, the cheaper it will become if they are all operating of one or two batteries and chargers.
The Most Popular Cordless Ranges
---
Since the attraction for a lot of people is the ability to power a group of machines with the same battery, we have compiled some of the most popular cordless ranges which offer this ability alongside a few of our favorite cordless mowers.
Honda Cordless Range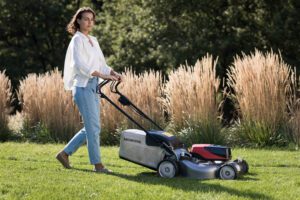 This range features two battery-operated mowers, the Izy HRG 466 and the Izy HRG 416 as well as a blower, hedge trimmer and brush cutter. There are three powers of batteries to choose from and they can be used in all products
Husqvarna Cordless Series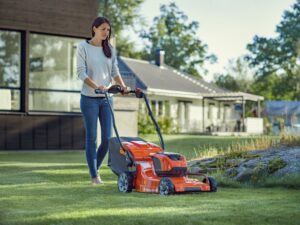 Husqvarna offers an exceptionally large selection of cordless machinery, with various options of chainsaws, lawnmowers, brush cutters, strimmer's, and blowers as well as a range of battery powers. One of the best things about this series is that the batteries are interchangeable with only a few exceptions. So if you're a fan of Husqvarna products and perhaps already have a battery-powered machine in this range then making the switch has become even easier.
Browse Now!
Stihl's compact cordless system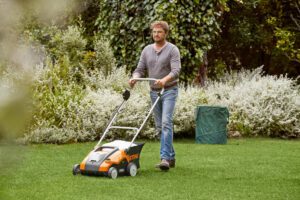 Stihl offers two different cordless ranges, the first one is designed more for the home or landowner, this system is compact and powerful and runs off interchangeable batteries however this range is limited to hedge trimmers, and grass trimmers, chainsaws and leaf blowers and does not include their lawnmowers. Their second range is their pro cordless power tool system, which includes similar machinery with the inclusion of lawnmowers, these machines run of their AP battery systems and come in three different power levels as well as backpack batteries, this system is interchangeable within the AP system tools.